The Bergamo-based entrepreneur Giuliano Regonesi, CEO of NOOR, donated a Steril Tube lamp to the hospital "Yeşilköy Prof. Dr. Murat Dilmener Emergency Hospital" in Istanbul, where the company is based.
The hospital is named after Murat Dilmener (1942 2020), doctor and former professor at the Faculty of Medicine of Cerrahpaşa University in Istanbul, who died as a result of the COVID 19 pandemic.
The hospital is one of the best and largest in Europe and the one with the largest number of beds in the world available for intensive care, in order to better deal with the health emergency caused by COVID 19.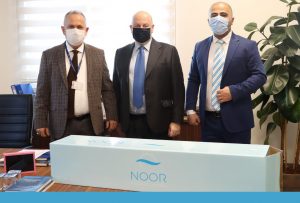 The lamp was delivered to Dr. Ekrem Guner (Istanbul's Extraordinary Commissioner for Covid) inside the hospital.
Steril Tube, is able to sanitize the environments in a few minutes. One of the most popular areas of application is meeting rooms or offices: thanks to its contemporary and minimalist design, it adapts to any type of environment.